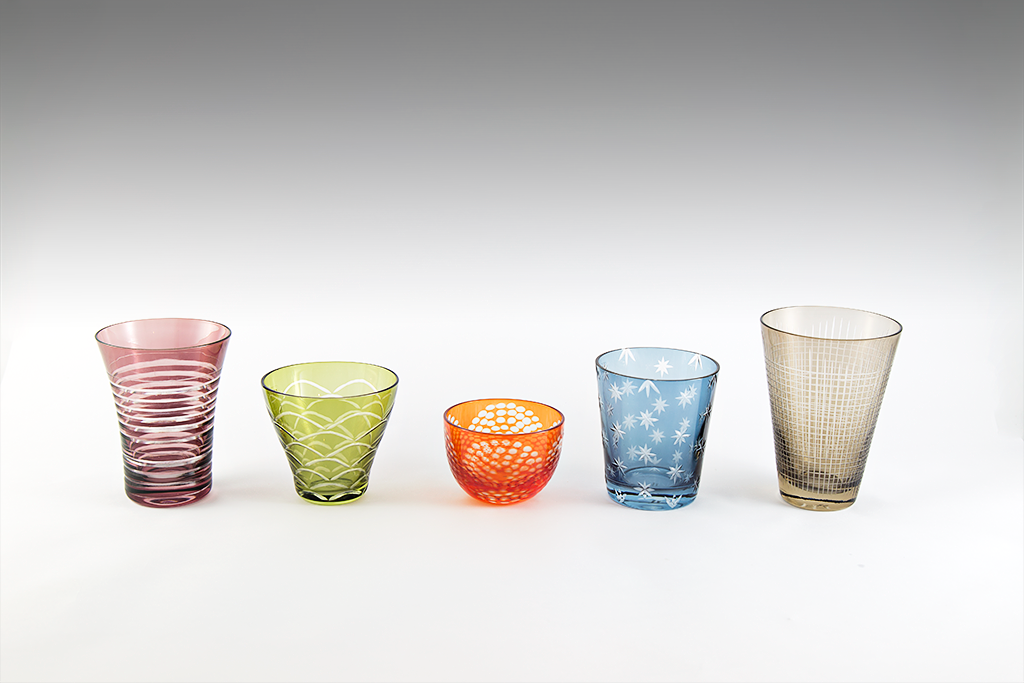 Soiree Glass Set of 5
Set presents five beautiful rainbow colored glasses in an ensemble of nature.
Nature unites five beautiful glasses through rainbow coloring, pristine crystal outlines and designs that evoke elements of the flora and fauna. As the viewers examine the speckled orange bowl then the motif of a goldfish arises and hygienically encases tadpoles and commencement of conceptual identity of the former subject.If the small rounded bottom of the yellowed glass parallels the sun, then the rays concentrate in density and form the centers of illumination. When the customer envisions the greened glass, the design demonstrates ambiguity upon presentation as structure decreases downwards and engages in the combination of an ocean palette demonstrates a fish, the basic petal shape parallels particular circulate plants and the hills illustrates the flora that shrouds the elevations.After the designer envisions the ocean covered in starfish, the snow within the iced background and starry night, the azure covering envelops the translucent crystals. Since the creator generates an inception of a royally purple tree , the narrowing structure reflects the prograssively larger rings upon the passing of growth.
Mouth-blown glass
Each piece is individually crafted
Labor-intensive process consists of taking clear, molten glass dipping it in a separate pot of melted colored glass
Intricate patternsthen hand-cut and polished to perfection
Clear glass that is dipped into translucent color
Dots, stripes, and arcs are then etched into the color layer
Reveal a lively pattern in the clear glass.
Soiree Glass - Set/5: 3¼" Dia x 2¼" H to 3" Dia x 5" H
Shipping Dimensions: 12" X 12" X 6"
Category:All Purpose Wine Glass, Champagne, Wine Glasses
Color:Clear, Multicolored
Materials:Glass
Style:Contemporary
Weight: 2.2 lbs
Handwash
Imported
SKU: TG139 400000000589